22day 200hr Hatha, Vinyasa, Restorative + Yin Yoga Teacher Training in Bali
1. March @ 18:00

-

22. March @ 11:00
A Yoga Alliance® certified course in Hatha, Vinyasa, Restorative and Yin Yoga
Discover it all
Exploring aspects of both Yin and Yang yoga, you'll discover how to both fire the body up and how to slow it down. Practicing anatomically-informed alignment-based Hatha and Vinyasa Flow each morning and Restorative and Yin yoga each evening, we'll explore these complementary practices and all the elements necessary to be able to confidently teach both.
Gain confidence
Extensive study of asana, alignment, anatomy, assists and adjustments, the philosophy and history of yoga, teaching methodology, intelligent sequencing, and the business of yoga will prepare you to teach with confidence and poise. We teach a multidisciplinary approach so that you can graduate with the ability to confidently teach multiples styles of yoga and meditation.
Go deeper
Whether you're looking to deepen your personal practice or to teach professionally, this course will provide you with everything you need to take your yoga to the next level. This training is designed to move you deeper into your own personal practice while simultaneously preparing you to offer your teachings to the world
Why Study With Us?
We cap our trainings to keep them personal and intimate so you will have an individualized experience with lots of direct contact and guidance from your teacher
Our teachers are highly experienced, professional, and knowledgeable with extensive work within the yoga industry and all hold the highest level of certification
We extensively study teaching methodology and the physical practice so you'll graduate feeling confident and able to teach
Our school is Yoga Alliance® certified, so you'll graduate with the ability to register as an RYT 200 and teach internationally
Course Syllabus
Throughout the duration of the course, we will extensively study
Meditation
Through daily practice of both guided and silent meditations and discussion of various techniques, we will delve deep into the practice, how it relates to the yogic lifestyle, and how to incorporate it into our daily lives.
Asana (Postures)
Each morning, we will practice Hatha or Vinyasa Flow yoga and every evening, we will practice Restorative or Yin yoga. Through intensive practice and study, we'll explore refinement and precision within your personal practice as well as how to share that detailed approach with your students.Alignment and Pose Modifications
Alignment and Pose Modifications
We will carefully dissect many common poses within the yoga practice to explore proper alignment in depth. We'll also discuss how to modify and adjust poses for students with injuries, pregnancy, or lack of strength and/or mobility.
Anatomy and Physiology
We'll deeply explore the fascinating human body. Learning extensively about the skeletal and muscular systems, we'll look at how our physical anatomy applies to the yoga practice and how to modify and adapt your teachings to keep students safe and aware. Through experiential and interactive learning, we'll have fun as we assess and understand the limitations of the body as well as all of its many amazing capabilities.
History and Philosophy of Yoga
We'll look closely at the birth of yoga and its evolution and growth throughout the years. We'll also discuss the philosophical side of the practice in depth and how it can apply to our everyday lives.
Mantra (Chants)
Through experiential practice and discussion, we'll learn about the practice of chanting (mantra). We'll discuss the many benefits of this practice and how to effectively practice, teach, and share it.
Pranayama (Breathwork)
Through experiential practice and discussion, we'll learn about the practice of controlling and regulating the breath (pranayama). We'll discuss the many benefits of this practice and how to effectively practice, teach, and share it.
Sanskrit (The Language of Yoga)
In a fun and interactive way, we'll explore the sacred language of yoga and its application in the modern-day practice. We will study key words of Sanskrit that yoga teachers should know and understand as well as extensively learn the names of poses in yoga's original language.
Sequencing Yoga Classes
We will study the art of sequencing in great depth and how to effectively and carefully plan and sequence yoga classes. We'll discuss theming, the different elements essential to a well-structured class, linking postures, intelligent sequencing, and beyond so you can walk away feeling confident to teach.
Hands-On Assists and Adjustments
Through experiencing assists and adjustments in your own body during the practices and through extensive study on the application of hands-on assists, we'll explore the many different ways to adjust and assist your students in countless postures. We'll discuss the key elements of good assists and work with different bodies in different poses to physically practice the art of assisting.
Teaching Methodology
Of course, we will study the art of teaching in its many facets—exploring the ideas of what makes a good yoga teacher, how to skillfully use language, how to effectively sequence practices, how to concisely cue poses, and much, much more so that you will feel secure and confident as a teacher. And, of course, you will have the opportunity numerous times to explore these concepts in reality as you put the art of teaching into practice.
The Business of Teaching Yoga
We will discuss the growing industry of the yoga profession and how to make yourself stand out in an oversaturated market. We'll look at the many different possible outlets to offer your teachings and how to start up your new career path. We'll talk about the many different ways to find work as a teacher and how to effectively market yourself within the industry.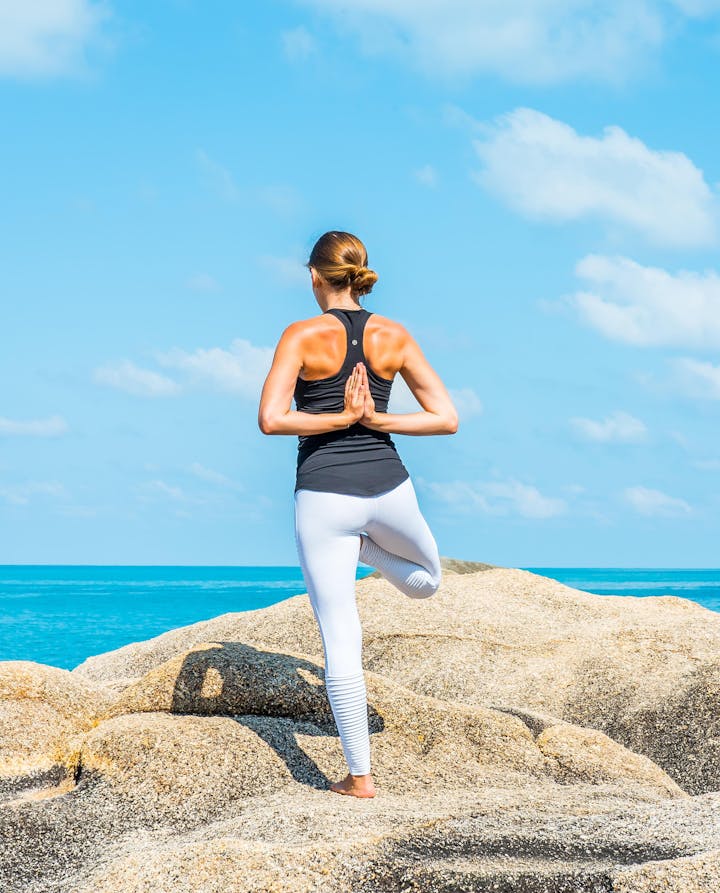 Training Schedule
Daily from Monday through Saturday with Sundays off
7:30 – 8:00am Meditation
8:00 – 9:30am Morning Hatha/Vinyasa Asana Practice
9:30 – 10:30am Breakfast
10:30 – 2:15pm Training Sessions
2:15 – 4:15pm Break & Personal Time
4:15 – 6:00pm Training Sessions
6:00 – 7:30pm Evening Yin/Restorative Asana Practice
*Schedule is subject to change
Your Teacher
Dedicated, knowledgeable, and passionate instructor
Leah Sugerman
Leah Sugerman is a yoga teacher, writer, and passionate world traveler. An eternally grateful student, she has trained in countless schools and traditions of the practice and teaches a fusion of the styles she has studied with a strong emphasis on breath, alignment, and anatomical integrity. Leah teaches workshops, retreats, and trainings both internationally and online.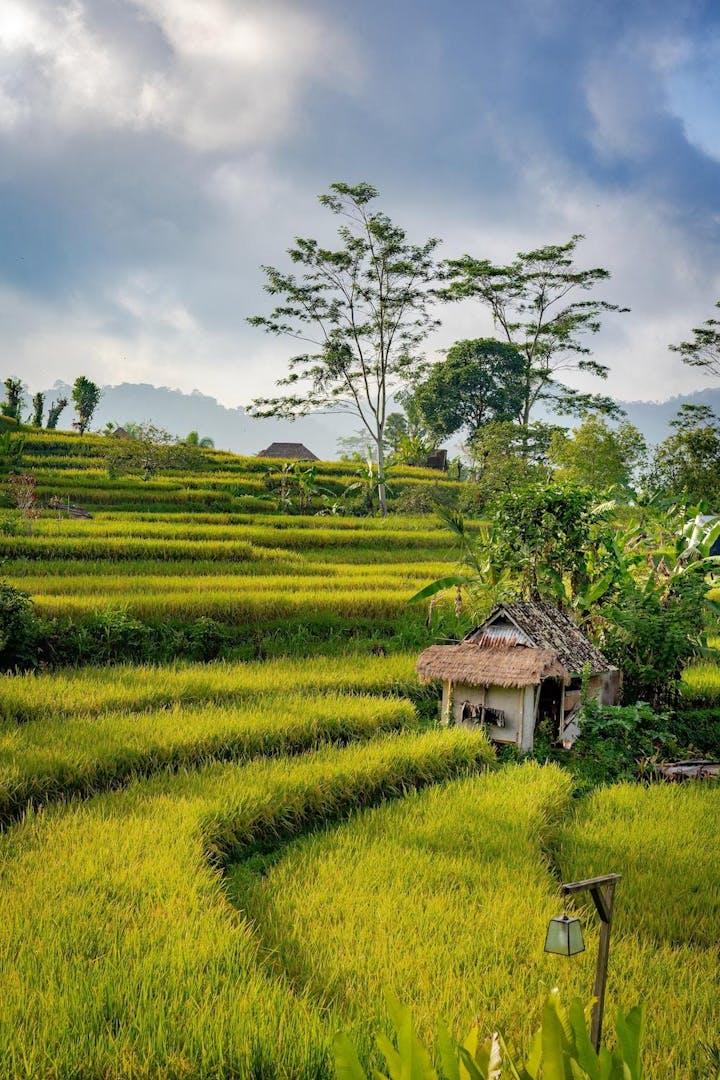 Location
Canggu, Bali, Indonesia
The magnificent villa is located on the magical island paradise of Bali, Indonesia. A beautiful, peaceful island, Bali is home to pristine beaches, warm ocean waters, endless rice fields, and lush jungle.
Filled with all the natural beauty of Bali and the warmth of its people, Canggu is the perfect place to escape for a transformational spiritual journey through yoga. A booming tourist destination, Canggu offers picturesque rice fields, beautiful beaches, gentle surf breaks, world-class cuisine, and much more. It's the perfect place to relax, unwind, and focus within.
A warm and welcoming culture, breathtaking landscapes, warm ocean waters, and colorful sunsets will make Canggu your new favorite place. The villa is located in a private and secluded part of Canggu with its own gorgeous green rice field views and a spectacular pool!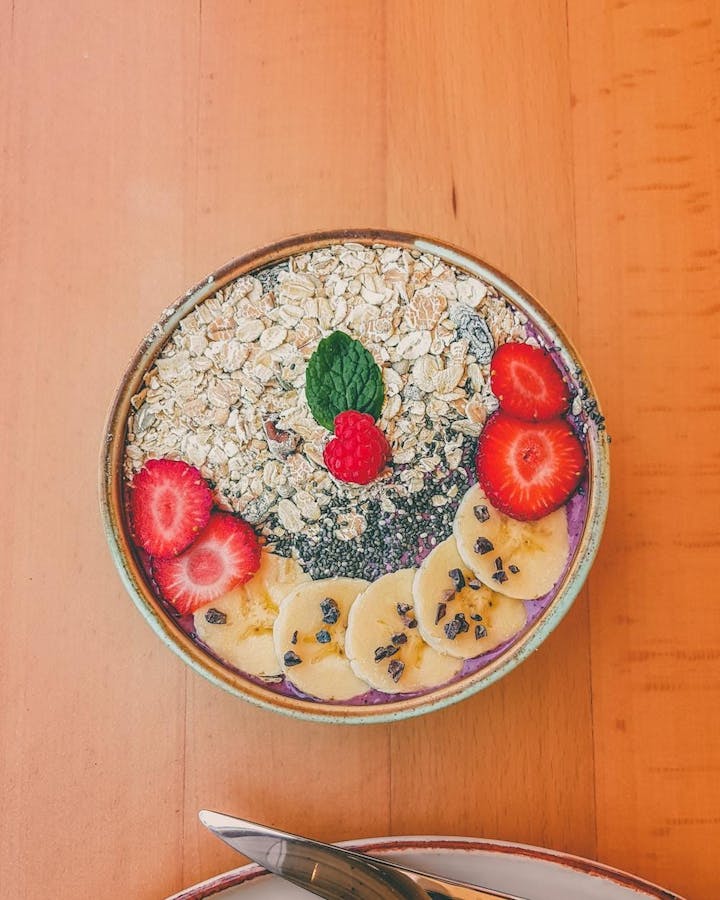 Food
Healthy & Nourishing
Healthy food nourishes the body and the soul, which is exactly why we love it. So, we serve only the best and healthiest vegetarian and vegan options for a full-spread, buffet-style breakfast.
Fresh and delicious ingredients and a genuine love for cooking create the essence of all meals served.
We believe that the way you eat has a great influence over your life. Your food choices greatly affect your well-being and your future. Establishing the right eating habits is the first step to self-mastery which is why we serve only energizing, nutritious, nourishing, and wholesome meals.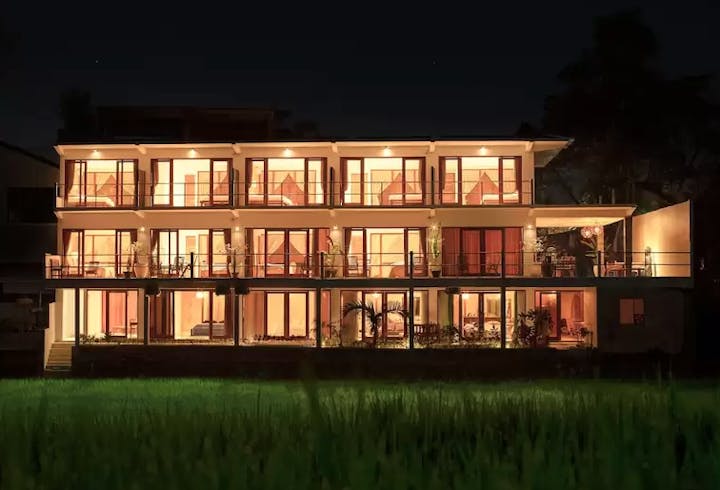 Housing
Villa Lotus 8
We know that different people appreciate different living conditions, which is why we give you the option to choose what you like best and what best fits your budget.
The location is majestic and awe-inspiring, and the experience provided is priceless and life altering.
There are a few different accommodation options to choose from with different amenities and price ranges.
All of our housing options feature air conditioning, hot water, and free WiFi. Some rooms feature a mini fridge, a bathtub, a balcony, and/or spectacular rice field views.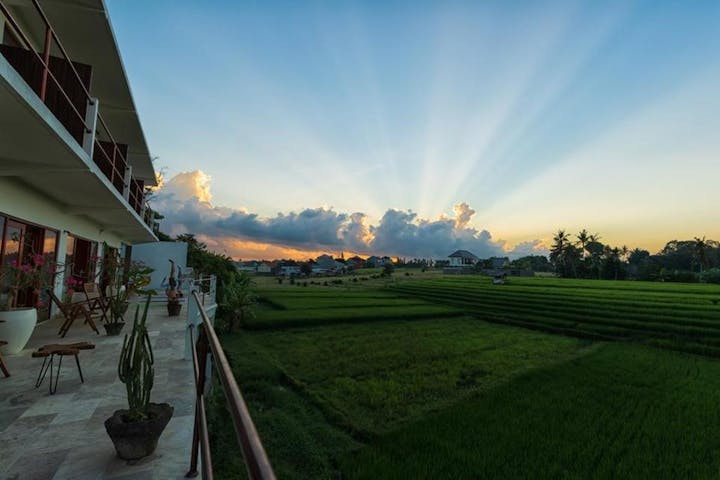 Testimonials
"Not only is Leah a fantastically gifted teacher, she is a beautiful person too. Leah was one of the teachers on my 200hr YTT and her knowledge, passion and patience are utterly inspiring. If you can study in any way with Leah, do it, you won't regret it!" – Jenny, Scotland
"Leah has developed such an amazing yoga teacher training. In a short amount of time we delved deeply into the history of yoga, teaching methodologies and sequencing (and many more). I now feel ready and equipped to teach what I love! Her stunning leadership skills also helped to set a warm and nourishing environment for all of us students to flourish in unison and build strong life long connections with each other. This time has been a pivotal moment in my life and I'm forever grateful. Don't get me wrong, we all had to WORK our minds, our bodies and our spirits. We were tested and challenged but I wouldn't have it any other way. In a market so saturated of teacher trainings, just stop at Leah and let her take you on this beautiful journey to transition from student to teacher." – Jessica, New Zealand
"Thank you Leah for being such a dedicated, insightful and lovely teacher—I still can't believe how much I learned from you." – Ana, Croatia
"Leah was one of the the teachers on my 200 hour YTT, and I learned so much from her. Leah's teaching style is a combination of strength and grace, of high technicality and beautiful spirituality. Leah shares her knowledge selflessly and with great kindness…I feel so grateful to have met her, and would recommend her classes and trainings 100%!" – Jeanne, France
"Leah is a complete force of total goodness and she has a massive presence. Her classes flow with consummate ease and, as a new yoga teacher myself, I now appreciate that her cuing is super world class. Never once did I find myself wondering what to do with my body. No class was ever the same. She always taught who was in the room and gave us all the confidence to attempt more difficult postures through her skill and compassion. Whilst she is light-hearted, there is a beautiful spirituality underlining her purpose on the mat. It makes you think on a deeper level when you leave the mat and return to "life." Every class is a journey. World class teacher, world class person. I have yet to come across a better teacher on many levels." – Mark, England
"It was the best experience of my life. Leah has to be the best teacher I've ever met and I feel so honored to have had the chance to be trained by her." – Felicity, USA
Related Events